Tracer™ Advance Microchips
Compulsory Cat Microchipping
In early 2021 the government announced that all cats will need to have a microchip implanted and be recorded on an approved database.
By making your clients aware now you can help manage demand - and avoid the inevitable surge of last minute appointments; encouraging pet owners to get their cats chipped during routine appointments over the coming months will help both client and practice. You can drive client awareness of this change in legislation on your social media and other channels - Elanco have produced a series of digital materials available here on MyElanco to help you. Log in here to access them.
WE HAVE PREPARED A SELECTION OF ITEMS INCLUDING:
Short video clips with text for your social media channels
Graphics, available in two sizes to use on your website, social channels, newsletters or emails
Newsletter text
About Tracer Advance
The Tracer Advance microchip and database package helps your clients to keep track of their pet. Used predominantly in cats, dogs, horses and rabbits, almost any species can be microchipped with Tracer, and if the worst does happen, they have the best possible chance of getting home safe and sound.
Tracer continues to provide your practice with quality and reliability in a client friendly pack.
Each Tracer Advance pack includes:
10 x Individually wrapped, sterile implanters pre-loaded with the Tracer Advance Slim microchip
10 x Client leaflets containing information about Petlog and Petplan
10 x Pet Information Cards
1 x Online Registration Instruction Leaflet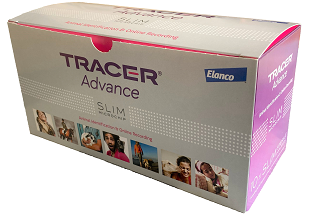 Benefits of Tracer Advance
Benefits for your practice
Easy-to-use, pre-loaded sterile implanters with removable needle for cost effective sharps disposal
Unique biopolymer microchip means smaller sized chips and needles whilst maintaining a high-level reading distance

Chip size reduced by 25%1and needle dimension reduced by 20%1

Online and PMS registration
Dedicated technical services support line
For your clients
Lifetime registration with the Petlog database, available 24 hours a day, 365 days a year
4 weeks free pet insurance voucher from Petplan for eligible cats, dogs and rabbits*
Comprehensive client information leaflet and useful pet identification card
Comprehensive information and advice about microchipping at https://uk.mypetandi.com/
Peace of mind that their pet has the best possible chance of being identified
1. Compared to the previous standard Tracer Advance product
* Terms, conditions and excesses apply
High performance technology and service
Each Tracer Advance microchip is fully encapsulated in a bio-compatible polymer tube and pre-loaded into a disposable implanter, sterilised and individually packed with the adhesive bar-coded labels needed to complete the registration.

10 x stronger, 12% lighter
A study has shown that the Bio-Polymer material, Vectra A53O®, is 10 x stronger under pressure and is 12% lighter than glass. Although reports on microchip breakages are rare, it is a significant scientific development that gives you and your clients extra peace of mind and reassurance.
Online Registration
The online registration system ensures that your clients' microchip registration information arrives with the Petlog database as quickly as possible.
Each pack contains an online registration instruction leaflet that will guide you through each stage of the registration process. The data is then sent straight to Petlog.
Please ensure you record an email address for your client with Petlog to ensure they receive confirmation of registration as quickly as possible.
Technical Helpline
Tracer Advance practices have access to the Elanco Technical Services support line staffed by vets and veterinary nurses. The helpline can provide technical support, advice and answer any questions that you may have about the microchipping process.
Elanco's Technical Support: 01256 353131
Scanner Servicing and Repairs: 0300 303 1300
Contact Elanco Animal Health for further information on 01256 353131 or email elancovets@elanco.com, or write to: Elanco Animal Health, Form 2, Bartley Way, Bartley Wood Business Park, Hook, RG27 9XA Tracer Advance, Elanco and the diagonal bar logo are trademarks of Elanco or its affiliates. © 2022 Elanco or its affiliates. PM-UK-21-0322. Date of preparation: 03/22.