ADVOCATE – ALWAYS THERE FOR YOU
Advocate provides 100% lungworm (Angiostrongylus vasorum in dogs) prevention1, and trusted protection against 22 parasites*.
PROTECTING DOGS AGAINST LUNGWORM
Monthly prevention is key to protecting dogs against lungworm. Advocate was the first product to protect dogs against lungworm, and has continued to be trusted by vets and clients for over 15 years.
Advocate offers 100% efficacy for lungworm prevention1
Advocate® Prevention Study1
Advocate® prevents angiostrongylosis and patent infection with Angiostrongylus vasorum.
Spot-on
Single challenge model- each dog given 200 L3 larvae in one go. Model successful in establishing infection in control group (8 dogs) with average of 99 worms. Two treatment groups (8 dogs each) received a single dose of Advocate®, at minimum licensed dose, 4 days post infection or 32 days post infection. Study duration of 56-59 days determined by time taken to confirm L1 larval shedding in all control dogs before study endpoint and assessment of worm numbers in all groups.
All Lungworm Free

Result:
100%
Untreated control group lungworm
burdens 49 to 165 (average 99). There was also a 100% reduction in L1 larval shedding compared to
untreated controls, with no L1 larvae being shed in any of the treated dogs.
For dogs that prefer a tablet, you can provide monthly prevention against lungworm using Milbemax.
Lungworm map
Visit our lungworm page to see details about our interactive lungworm map, report a case, and learn more about lungworm.
The lungworm map is a resource to check reported cases of lungworm in dogs. Only reported cases are shown therefore it is not exhaustive. Many go unrecorded, or are resolved with presumptive treatment, so are never confirmed.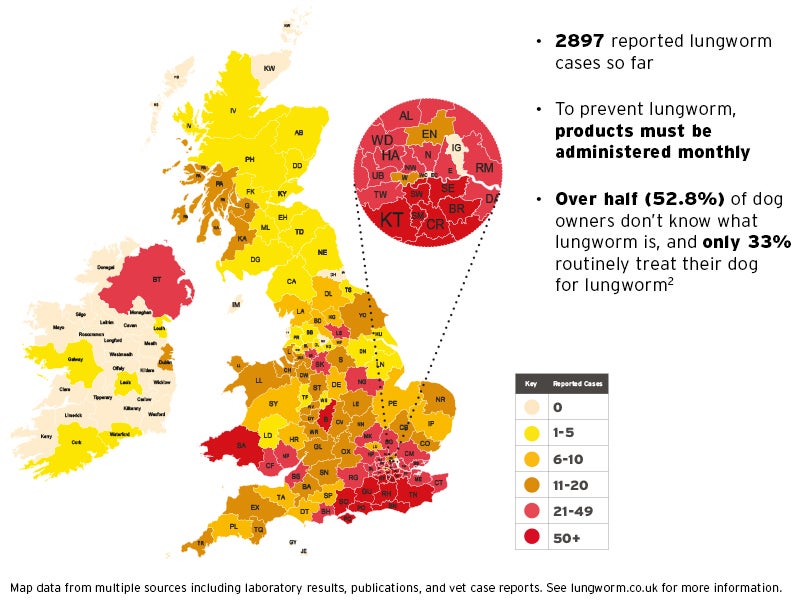 Materials
We will be adding to the range of Advocate materials below in MyElanco.
Get the full details, videos and resources by logging into MyElanco.
Not registered yet? Don't miss out, see the benefits of MyElanco.
1. Schnyder M et al. Vet. Parasitol. (2009);166;326-332; 2. Survey of 2000 UK dog owners – conducted by 2GEM, April 2020.

* 22 parasites on the license across dog and cat species.
Advocate contains imidacloprid and moxidectin and is indicated for use in cats, ferrets and dogs suffering from, or at risk from, mixed parasitic infections. Milbemax™ for cats, Milbemax™ for dogs and Milbemax™ chewable tablets for dogs contains milbemycin oxime and praziquantel. Legal category POM-V (UK) POM (IE). Refer to the product packaging and leaflets for information about side effects, precautions, warnings and contraindications.
Further information is available from the Summary of Product Characteristics. For further information call Elanco Animal Health on +44(0)1256353131 or write to: Elanco Animal Health, Form 2, Bartley Wood Business Park, Hook, RG27 9XA, United Kingdom.
Advocate, Milbemax, Elanco and the diagonal bar logo are trademarks of Elanco or its affiliates.
©2021 Elanco or its affiliates. PM-UK-21-0254. Date of preparation: 03/21.
Use Medicines Responsibly www.noah.co.uk/responsible (UK) www.apha.ie (IE).